the Truth To happiness

In this project we learned that doing what you truly love to do is what makes you most happy. Not getting caught up what everyone else thinks of you but what you think of yourself. We learned this because most peoples goal in life to be happy and if we can learn what we can do as a community to make that goal achievable, we wouldn't have to worry about never being happy. At first my idea was will doing random acts of kindness improve your happiness? But as I went farther into that question I started to realize that you wouldn't even realize what happiness was unless you had other emotions. As me and my group mates went farther into that we also realized that meditation is such a great tool to use in order to clear your mid and really learn to let go which drew us to our final question, how does meditation help with becoming happy.
Happiness Experiment
Annotated bibliography

Reflection

Most people will spend their entire lives trying to answer one question, what is the truth of happiness? In reality the answer is plain and simple, being yourself not getting caught up in your past self or what could happen in the future. It's about living your life doing what you love and not caring what people are thinking or saying for example in the movie happy there was a man that according to a serve he was happier than most Americans even though he was living in a one room house with five kids a wife and how he made his living was by carrying people around in a bicycle taxi. He was enjoying life just the way it was he didn't care that most people in his position would be terrible he didn't care how people would think of him. In this project their were ups and down when it came to challenges but the biggest challenge was probably making plans to film after school, we couldn't quite agree on a time and when we finally did our microphone ended up not working. So instead of bringing our out of school community into this project we had to compromise and use people from other grades. In this project I grew as a group worker because I really tired to learn what others people perspective was on it, most of the time I am not prone to criticism but when it came down to this project I really wanted to make it look good so instead of pushing away criticism I learned to embrace it. The one thing I would refine in this project would to make the sound quality better I felt like there was a lot of white noise that just never really collided with the music and in order to do that I would have to communicate to my group members what time would be best to try and set it up.
Socialization and Mask Project
This project was about learning how we were socialized from when we were young. It's about how we view the world, how we learned about all the stereotypes that shape our life. This project showed us that stereotypes are everywhere even when we are not meaning to, these stereotypes can be both good and bad. During this project we made masks and essay representing the stereotypes that have helped us and also damaged us. Each essay and mask connects to each person in a different way.
My Mask
My Way through

Socialization


​(Essay)
​
Socialization is how we are stereotyped, socialization determines what we like, where we eat, where we shop, what we look like and how we think. Socialization is the jocks, the wannabe's of this world, it is how we are characterized from before we even understand what that word means. Socialization isn't only negative but can also be positive, for example when we are taught to be nice and there isn't a reward involved. Even when we are adults, we stereotype people into groups called agent and target groups. Agent groups are the upper class, The wealthier of all people, while target groups are the lower class. Not everyone views this world the same, some people just can't comprehend or understand a world with prominent stereotypes. Some people teach their children to stray away from stereotypes, but alas that only works some of the time. Even if you don't see it, everyone is socialized whether it's what you wear, where you go, who you hangout with or what you like. Socialization characterizes us into loving what we love, and hating the things we hate, socialization is the stereotypes we see in our day to day life.
Music has a huge role in my life I listen to music when I am in the shower, when I clean, riding in the car or even working on school work. As a result I look up to these role models I copy their style or I judge them on their life decisions. I am impacted by the music I listen to, afraid that the stations I listen to others might not like. For example the category "Today's Hits" not everyone is a fan of this category but some people are, it's the "most listened to caterorgy from ages twelve to eighteen" states the article Today's Top Charts. If you ever open up a magazine you see the day to day life of these pop stars, it tells us the pressure that they are under and how hard it is to be "famous". For example pop stars can crack under pressure like when Miley Cyrus turned to drugs to help her stay awake during concerts in her younger ages, which then led her to addiction, and lead her down the "bad path". Luckily she found Liam Hemsworth, he then encouraged her to change which then taught me that no matter how far down the "bad path" you may go you can always come back.
Meanwhile in sports you get all this pressure on what you should look like and who you should be friends with, personally I was socialized through sports, by being told what I should wear and what I should look like. For example a whole bunch of Sports Illustrated magazine have big bulky men and the girls are only showing half their bodies or they are Olympic athletes. For example on the cover of May 9th, 2016 the cover was a full grown man who was a football player he was a representative from the Philadelphia Eagles football team, on the cover they gave the illusion that he was about to pass a football he was in his complete uniform and looked tough and mean. Stereotyping me into thinking that is how all football players should look even if they are only in the little leagues. While on the cover of July 20th, 2015 it was the cover of a female world cup soccer star, who looked gentle and sweet. there's definitely a difference between the female and male perspective. She had her hand around the trophy and was kissing it, showing me that women are not as rough and they are more gentle and could never play a 'man's sport'. Then you have any Sport Illustrated swimsuit edition, which is just women after women each one undressed more than the last, if you google search "Sports Illustrated cover women" over 50% of the page is filled with topless women, or women that are only wearing a bikinis, telling me that if I want to be on the cover of a big time magazine I need to show off half my body, or I need to make it to the big leagues. I was taught from a young age that I could do anything, my parents forced me to play a sport every year and I am grateful for that, it kept me in shape. It helped me make friends from all different sports, I played soccer, gymnastics, baseball, climbing, figure skating, and after that I tried volleyball and that has stuck ever since.
School has been a huge part in everyone's life since they were five or even younger, and because of that school has been able to socialize us with the stereotypes that we view. School showed us the beginning of the stereotypes and because of that, we chose friends that we think we are better off for us in this stereotypical world, and because of that we are taught that girls love shopping and boys prefer not to. So through that we are socialized in shops we are stereotyped, for example the "mannequins we see in stores were "bigger/ curvier" in 1950 but ever since 1999 mannequins have been becoming skinnier" states the article
5 Reasons My Girlfriend Thinks She's Not Pretty Enough
"plus size model ranged from twelve to eighteen ten years ago, now they range from six to fourteen, Meanwhile the average female is five foot seven inches and weighs 140 pounds, while the average female model is five foot eleven inches and weighs about 117 pounds" and these models are found in almost every magazine. We are also taught that girls should watch certain movies, ones that aren't as scary or as gruesome, and because of that we watch these "feminine" tv shows or movies, and while we are watching these movies/ tv shows commercials pop up and "50% were directed towards young women and their appearance. Meanwhile none were aimed at boys and their appearance." states the article
5 Reasons why my girlfriend thinks she's not pretty enough
. This has socialized me by telling me that boys don't care as much about their appearances but that's all that girls care about.
The only reason we listen to socialization is because that is what we are told, it's the tv shows we watch, the music we listen to, the magazines we read, and no matter where you go it will always follow you. Even if you try to stray away it will creep up in the back of your mind and eventually take over again. Socialization isn't only bad but can also be good. Some people don't view the world the same as others and no one's saying that is bad. Some people can't imagine a world with these stereotypes and some people are just naive. Simply everyone's view is different, depending on who their parents want their kid to grow up as, or that they are so focused on what is going on in their own lives that they ignore the signs. Some girls decide to wear makeup while others decide not to, nothing is wrong with their appearance but they are just confident enough to look how they look. Sadly we all have insecurities no matter the mask we hide. We all have been socialized whether or not you see it, socialization is in the magazines we read, the stores we go to, the music we listen to, and the things we love.
​
Project Reflection
This project was stressful and difficult, but I persevered and I'm glad I did. There was moments when I thought of giving up, tears were shed and opinions were hurt. That is all part of the learning process, during the essay part of the project I felt I really grew because I learned how to cite the evidence in the actual paragraph itself. I felt I was able to choose the right evidence to help support my paragraph and I was able to learn from different ways the evidence was presented, for example during my sports illustrated part of my essay I was able to draw evidence from the covers of the magazines.
The largest take-away I had was the mask part of the project I felt I could connect to this part because in the past I have done both, I have worn makeup and I haven't both were ways that I felt most confident. On the back of the mask I put all the things I have been called in the past, I also put the things I choose to hide from the world like my depression or the fact that I am insecure like the rest of the world. I thought this was the biggest take away because I have never been able to talk about my insecurities much less put them on a mask I can show to the world, I also thought this part connected to me the most.
I also grew a lot in this project I was able to show my insecurities and share them with the world, but I also learned so much more in this project than I would've at my old school. I learned how a exhibition was actually presented, I learned what a TEA paragraph was (through my essay) I learned that it's okay to make mistakes after all we are only human, I found this out when we had only decorated our room and we had no evidence so Sara sat us down with a project manager and we accomplished a lot in 120 minutes (2 hours).
As a group member in this project I felt I contributed a lot, there was one moment when I thought what was the point and why do we have to do this? Then during the exhibition I was glad I set up the lights and I'm glad I was able to hang up posters just in time. I'm glad I took the time to put green screens on the table tops. I think I contributed a lot to this project not only with decorations but also with finding videos and helping Nick decide which statistics would really contribute to catching the eye of our guests and which ones would be better to not print. During the project I think I could've continued to use the same work effort as I did in the beginning to complete the project. I also think it would be helpful if I remember that critiques are exactly that critiques they are meant to help and support me through my process not bring me down. I feel throughout this project I had my ups and downs but through it all I was glad I was able to present a project I'm proud of.
​
Powered by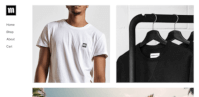 Create your own unique website with customizable templates.